| Service Type | Car | Wagon | SUV/Truck/Van | Warranty |
| --- | --- | --- | --- | --- |
| Titanium | $1499 | $1499 | $1599 | 10 Years |
| Ceramic | $999 | $999 | $1199 | 5 years |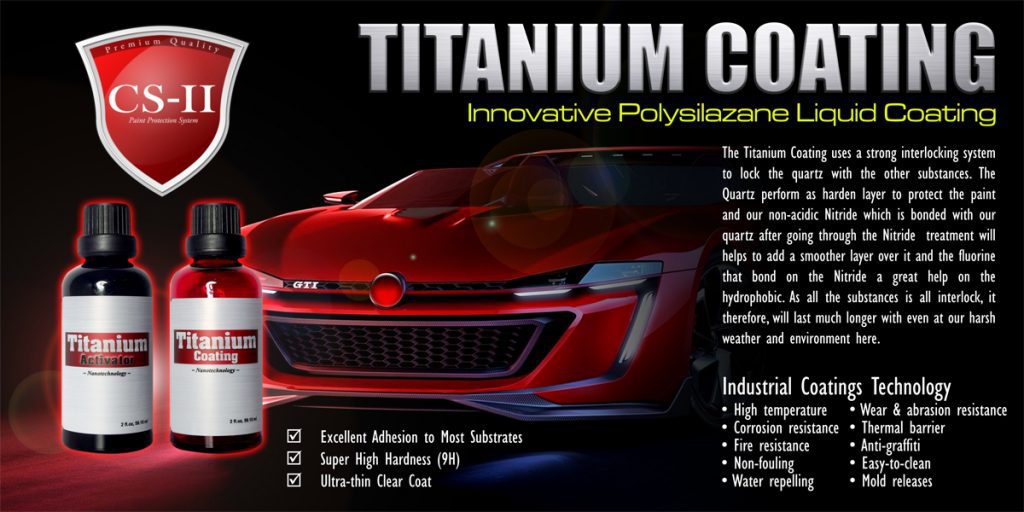 CS-II Titanium Coating is the finest automotive titanium coating on the planet. It utilizes the next generation of protective coating for automotive surfaces. The extremely long-lasting crystal coat acts as a protective armor against acid rain, bird droppings, road film, tar and harmful UV rays. It maintains the luster and color of the paint on your car with the best grade of hardness (9h) while its adhesive strength will minimize the appearance of light scratches. Thus, the paint is protected and given a longer life cycle. Another key benefit of CS-II Titanium Coating is that it offers a deep rich gloss and finish. Ultimately, this makes the future washing of your vehicle faster and easier!
The Benefits of CS-II Titanium Coating:
Permanent protection
High adhesive strength
Resistance to abrasion
No cracking enabling an Easy-To-Clean surface
Maintains a deep high gloss finish for up to 10 years
Anti-dirt/graffiti qualities
Resistant to formation of light scratches and swirl marks
Less water spots and fingerprints
Long lasting, easy to clean surface. Self-cleaning effect.
Quick drying, excellent brightness, high gloss and hardness.
Excellent chemical resistance and color retention.
Easy to clean surface against salts, calcium, oil, grease & other contaminants.
UV blocking (90%) & thermal resistance, weather resistant.
Stops salt efflorescence
Insect repellent
Preserves resale value of the car
No need to wax or polish for up to 10 years

CS-II Ceramic Coating is a semi-permanent ceramic coating which only requires a single, thin coating and provides long-term shine and protection. By inter-locking part of its molecular structure with the surface molecules of your paintwork, the result is a coating that will not be washed off like a wax. CS-II Ceramic Coating greatly reduces the penetration of heat, helping protect the finish of the vehicle. Once treated with CS-II Ceramic Coating, your vehicle will repel water and contaminants like a lotus-leaf and will maintain a clear, reflective, showroom like shine. CS-II Ceramic Coating cannot be removed by water, alkaline or other detergents, or by pressure washers. The coating can also be applied to other chrome components. One application can last up to 5 years. The Benefits of Ceramic Coating: • Reduces incidences of mineralization, salt deposits, and organic staining • Protects from extreme temperatures • Protects from UV rays • Lowers cleaning costs and time by up to 50% • Lasts longer than traditional waxes (up to five years) • No cure time required • Easily sheds dirt, rain and snow • No special shampoo or cleaning solution required • Protects from color fading, oxidation, corrosion, chemicals, environmental contaminants and weather • Minimizes hairline scratches up to 60% • Only a single coating required, no follow-up applications necessary • Coating can be waxed or sealed over three days after application • Can be applied onto most areas of the car, except rubber All CS-2 Products must be installed by certified installers.