Auto Detailing Services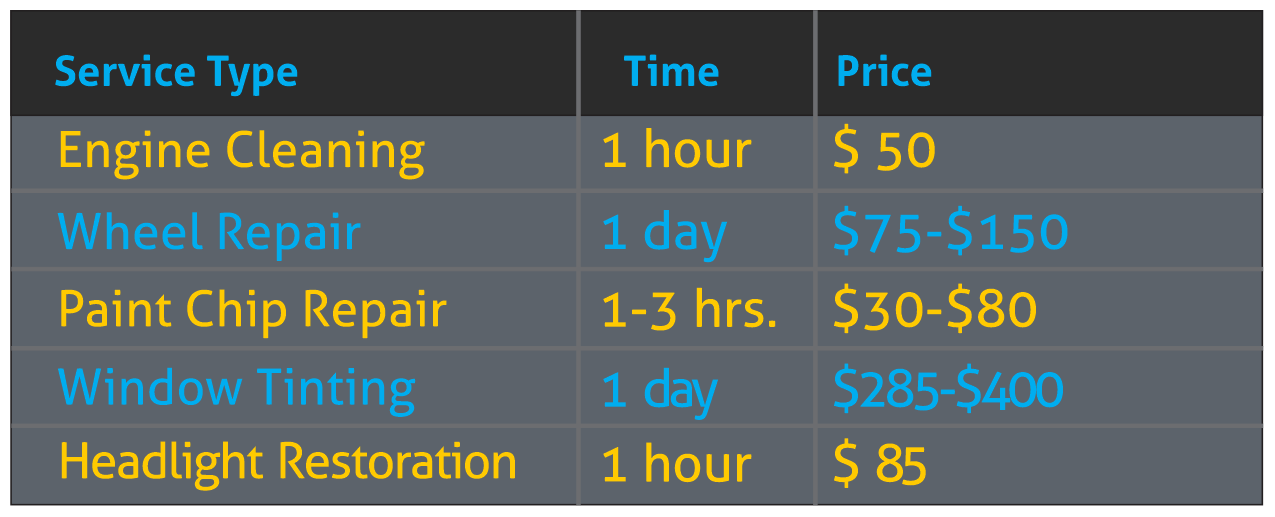 Wheel Repair:

1-Day Quote

We offer on-site wheel repair to remedy any sort of cosmetic "curb rash", rock chips, or scratches we are able to match OEM wheel paint finishes as well as a wide variety of other colors for all painted wheels. We also have the ability of fixing bent, cracked or other damaged wheels. For a rough estimate please take a picture and email it to us at Gallagher Auto Spa.
Paint Chip Repair:

1-3 Hours Quote

Do you have any rock chips? Did you accidentally hit the curb? We have a system in place to repair your chipped paint. With over 10,000 colors we can match your paint and get ride of those chips in one easy step. Prices depend on how many chips there are.
Window Tinting:

1-Day Quote

At Gallagher Auto Spa, we offer premium window tint installation, utilizing Sun-Tech Film. The films we offer are available in wide range of tint percentages. These products will not fade over time as they are ceramic, which also means they wont interfere with GPS or phone transmission as well as reducing 99% of all harmful UV rays. We hand cut all of our installations to ensure maximum coverage, and as clean an install as possible to give your car the look you desire.
Headlight Restoration:

1 hour

Does your headlights looks yellowish? Headlights don't seem as bright as they used to? Well,  you might be a candidate for headlight restoration. We wet sand the headlights and then polish them to get back the clear and beautiful look that you remember.