| Service Type | Car | Wagon | SUV/Truck/Van | Warranty |
| --- | --- | --- | --- | --- |
| Titanium | $1199 | $1199 | $1299 | 10 Years |
| Ceramic | $799 | $799 | $899 | 5 years |
| Stage 2 | $499 | $499 | $599 | 2 years |
| Aqua 4 | $299 | $299 | $399 | 1 year |
| Leather | $299 2 rows | $299 2 rows | $399 3 rows | N/A |
| Clea Vue, Glass coating | $199 | $199 | $199 | 1 Year |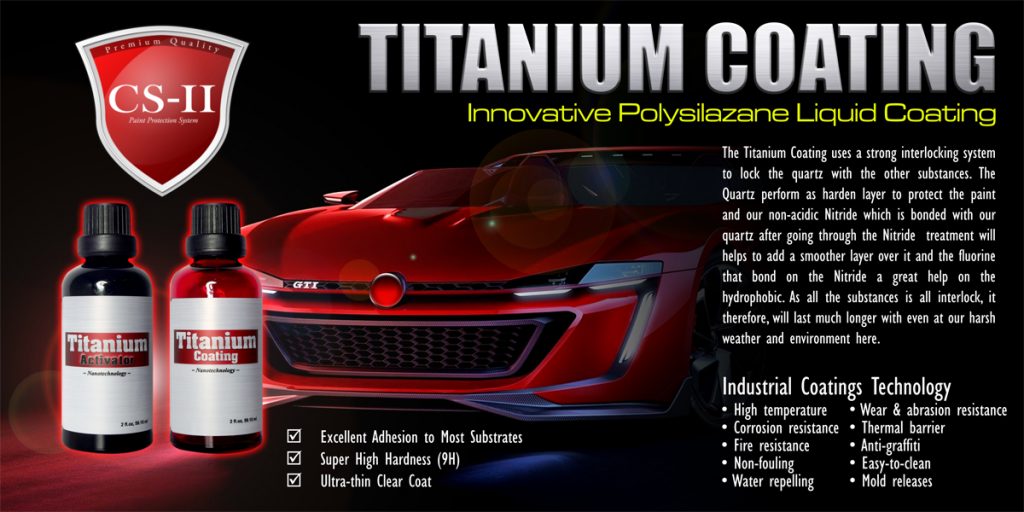 CS-II Titanium Coating is the finest automotive titanium coating on the planet. It utilizes the next generation of protective coating for automotive surfaces. The extremely long-lasting crystal coat acts as a protective armor against acid rain, bird droppings, road film, tar and harmful UV rays. It maintains the luster and color of the paint on your car with the best grade of hardness (9h) while its adhesive strength will minimize the appearance of light scratches. Thus, the paint is protected and given a longer life cycle. Another key benefit of CS-II Titanium Coating is that it offers a deep rich gloss and finish. Ultimately, this makes the future washing of your vehicle faster and easier!
The Benefits of CS-II Titanium Coating:
Permanent protection
High adhesive strength
Resistance to abrasion
No cracking enabling an Easy-To-Clean surface
Maintains a deep high gloss finish for up to 10 years
Anti-dirt/graffiti qualities
Resistant to formation of light scratches and swirl marks
Less water spots and fingerprints
Long lasting, easy to clean surface. Self-cleaning effect.
Quick drying, excellent brightness, high gloss and hardness.
Excellent chemical resistance and color retention.
Easy to clean surface against salts, calcium, oil, grease & other contaminants.
UV blocking (90%) & thermal resistance, weather resistant.
Stops salt efflorescence
Insect repellent
Preserves resale value of the car
No need to wax or polish for up to 10 years

CS-II Ceramic Coating is a semi-permanent ceramic coating which only requires a single, thin coating and provides long-term shine and protection.
By inter-locking part of its molecular structure with the surface molecules of your paintwork, the result is a coating that will not be washed off like a wax.
CS-II Ceramic Coating greatly reduces the penetration of heat, helping protect the finish of the vehicle. Once treated with CS-II Ceramic Coating, your vehicle will repel water and contaminants like a lotus-leaf and will maintain a clear, reflective, showroom like shine. CS-II Ceramic Coating cannot be removed by water, alkaline or other detergents, or by pressure washers.
The coating can also be applied to other chrome components. One application can last up to 5 years.
The Benefits of Ceramic Coating:
• Reduces incidences of mineralization, salt deposits, and organic staining
• Protects from extreme temperatures
• Protects from UV rays
• Lowers cleaning costs and time by up to 50%
• Lasts longer than traditional waxes (up to five years)
• No cure time required
• Easily sheds dirt, rain and snow
• No special shampoo or cleaning solution required
• Protects from color fading, oxidation, corrosion, chemicals, environmental contaminants and weather
• Minimizes hairline scratches up to 60%
• Only a single coating required, no follow-up applications necessary
• Coating can be waxed or sealed over three days after application
• Can be applied onto most areas of the car, except rubber
All CS-2 Products must be installed by certified installers.
Stage 2 info:
Stage 2 Coating lasts for 18-24 months, and is the perfect entry level coating for customers new to coatings or are on a budget. Stage 2 Coating, when applied professionally, will produce 5,000 nanosized resin particles over one square inch. These particles lock into the paint surface of a vehicle and seal it. No waxing is required for 18-24 months. When our paint protection product is applied, any acid rain fallout, bird droppings, or tree sap will not harm the coating.
The Benefits of Stage 2 Coating:
Keeping your car brand new looking for many years
Elimination of the need to wax by sealing in permanently protective shine
Preserves resale value of New car
Increases resale value of Used car
More accurate color matching for paint touch up
Reduces the chances of swirls
Owners are spared from the frequent cleaning
The long-lasting value it adds to your vehicle's appearance while protecting the environment by eliminating the need to use harmful detergents and generate waste water
Protects your vehicle's paint finish and simultaneously adds a brilliant shine which is guaranteed to last for at least 18 months
Easy washing with just a microfiber cloth and water
Enhance your experience of your car by increasing its feel and visual appeal as well as cleanliness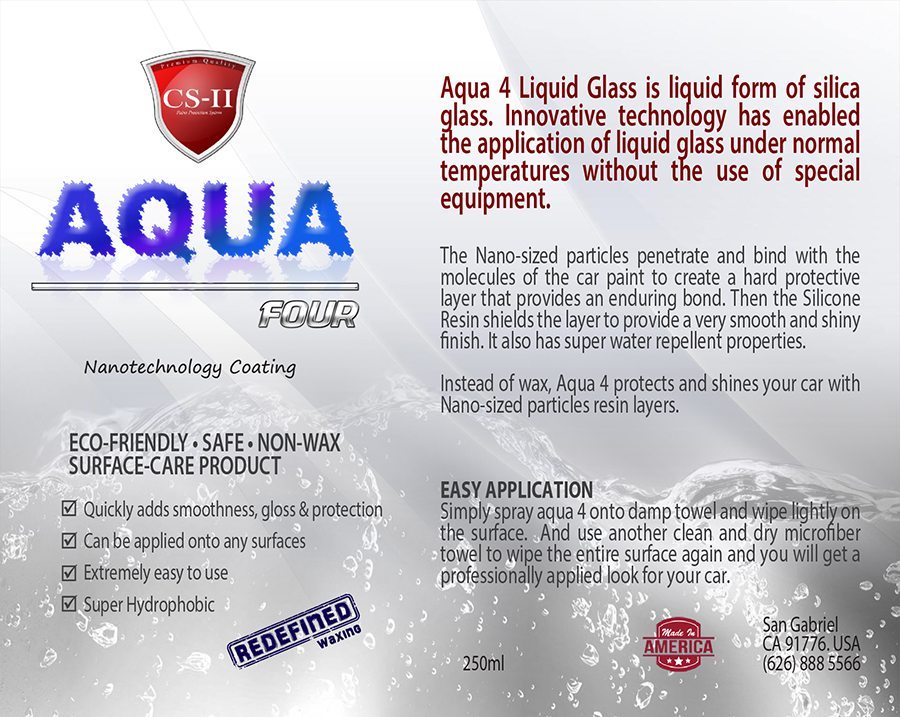 Aqua 4 Liquid Glass is liquid form of silica glass. Innovative technology has enabled the application of liquid glass under normal temperatures without the use of special equipment.
Glass is one of the most stable materials available in nature. It's hard and chemical-resist. Glass is easy to keep clean. Just think about your ceramic dishes and bowls in your kitchen. Dirt and grime just wash away! Glass does not lose its shine!
It's a very thin layer and it binds the inside of a paint layer. If you were to take a look at a car's paint with high-performance microscope, you would see lots of micro holes. Nano-size Aqua silica glass particles penetrate these holes to bind with the first layer of paint, creating a strong finish that won't crack or break! Silicone Resin is extremely water-repellent. Because of the smooth surface, it is easy to wipe off. Water beads roll off at 35mph. Water doesn't stay on the surface of the car, so it dry quickly.
Just spray Aqua rinse off with water, wipe dry and lightly buff with a clean and dry microfiber towel. With repeated use, you can really see more and more glass-like shine. Each time you apply Aqua, the glass layer thickens on your car's surface. This further increases not only shine, but also paint surface strength, improving protection and durability. You will not find this self-improving feature in any wax or other car care products.
The glass layer provides additional protection of up to 6 months or even more with multiple applications. The aqua resin layer provides months of protection. Aqua makes the car's surface water repellent that makes water slide off the coated surface and removes unwanted water spots. There's no need to use special tools to apply the Aqua. You just need to rinse off the soap and then spray it on the wet car surface rinse off and wipe dry. Wipe it with a dry soft microfiber towel and you'll have a smooth and shiny surface.
The glass layer produced with the use of aqua has an Industry Standard Hardness of H. That means it can protect against light scratches made by, iron dust, weeds and nails.Aqua creates a smooth finish that repels animal droppings and dirt. You can easily clean daily dirt and grime with the use of water and sponge. Glass is a good protector against acid rain, salt from the sea, road salt, and other chemicals.
Aqua utilizes the power of glass (SiO2) that provide beautiful sheen for a long period of time. The material used in aqua is non-toxic and can produce an effective coating without the need of special tools or maintaining the temperature of the room.
CS-II Clear VUE glass coating is a glass protection treatment which provides an invisible, water repellent, non-stick barrier to protect a variety of surfaces such as glass. It chemically bonds to the glass, so it will last up-to 12 months. CS-II Clear VUE Glass Coating protects against scale and/or salt damage, while making the surface extremely easy to clean. This long lasting invisible shield can be applied to glass, ceramic tiles, stainless steel and chrome surfaces which provides protection that would repel both water and oil based stains.
• ECO-FRIENDLY
• SAFE
• NON-WAX